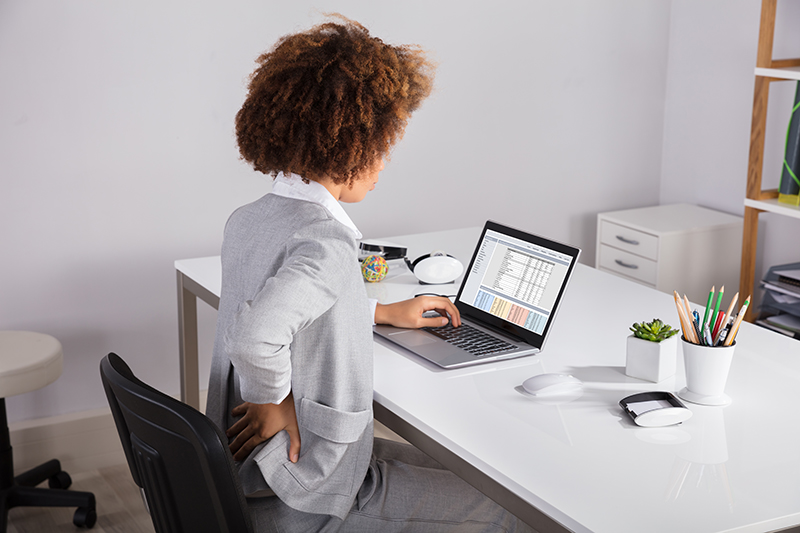 With advances in technology we need to use less and less effort to get things done. You can do your weekly food and retail shopping online and get everything delivered to your door step. These days even work meetings are all done over webcam/skype so no need to get up from your work desk.
As a result, we actually do less physical activity throughout the day and actually end up sitting for longer periods of time.
Example of an office worker:  Generally sit for approximately 8-10 hours a day. After a long day of work, you then get back home and after dinner is finished and you've sorted out the kids you are then relaxing sitting on the sofa after a hard day's work. So, although it feels like we are doing a lot day to day a large part of your day is sitting down – obviously this is not the same for everyone.
Whilst a lot of people are sitting for long periods of time, people are now spending more time on their health and fitness and spending on average 1 hour a day at the gym 3-5 days a week. Yes; this is great however the 1 hour of exercise DOES NOT counteract the 10 hours of inactivity!
OUR BODIES ARE DESIGNED FOR REGULAR MOVEMENT!
You should be aiming to get up from your chair EVERY 50 minutes at a minimum!
6 THINGS THAT HAPPEN TO YOUR BODY WITH PROLONGED SITTING
INCREASED RISK OF HEART DIEASE
When you sit for longer periods of time your blood flows slower and in turn your muscles burn less fat which allows these fatty acids to clog your heart. Research from The American College of Cardiology showed that women who sit for 10 hours or more have a significantly greater chance of developing heart disease than those who sit for less than 5 hours.
INCREASED RISK OF DIABETES
Increased sitting even if it just for ONE day increases the production of insulin from the pancreas which can increase your risk of diabetes.
CANCER RISK
Excess sitting can increase your cancer risk due to the increased production of insulin that encourages cell growth. As well, cancer risk is linked to weight gain and biomechanical changes such as hormones, metabolic dysfunction, leptin dysfunction and inflammation – all of which increase your risk of cancer.
DIGESTIVE PROBLEMS
Sitting down after you have eaten can cause your abdominal content to get compressed which slows down your digestion and makes you feel sluggish, bloated and can give you constipation and heartburn.
POSTURAL PROBLEMS
Shoulder, neck and back pain are all common problems associates with poor posture and sitting for long sustained periods of time. They can lead to permanent postural changes and muscle imbalances in your body. 40% of people who suffer from back issues tend to spend long hours sitting on a computer.
MUSCLE WEAKNESS AND TIGHTNESS:
Sitting for long periods of time can lead to tight and weak hip muscles. Sitting does nothing for your glut muscles which are really important for simple tasks like walking. Simply standing up activates your gluts and makes you tense your abdominal muscles that both help stabilise your body.
6 WAYS TO SIT SMARTER AND GET UP MORE
SET A TIMER
Use this to remind you to get up from your desk for 5-10 minutes every. You can either walk, stand, or take the opportunity to do a few simple exercises by your desk.
COUNT YOUR STEPS
Using a fitbit or pedometer measures the steps you take. You should be aiming for 10,000 steps per day. You can make small adjustments such as taking the stairs instead of the lift, park your car further away from the entrance to your workplace or go and speak to a colleague in the office rather than sending them an email. These small changes will really increase your step count.
WORK LAYOUT
organise your work space so that you have to get up to reach certain files or even keep the phone on the other side of the desk so when on the phone you are standing for that period of time.
SIT ON A GYM BALL
Sitting on gym ball instead of a chair can help you engage your core muscles and helps improve balance and flexibility. You can also complete pelvic tilts exercises in this position to keep your lower back mobile.
STANDING WORKSTATION
Stand up desks are a great way of keeping your body mobile but not affecting your work – obviously with everything you also need to make sure that the desk is set to the right height for yourself and you have to make sure you aren't sloughing or leaving all your weight on one leg.
USE A WOODEN CHAIR
If its difficult to get a ball or standing desk sitting on a wooden chair with no hands will force you to sit upright and as the surface is harder than a cushy office chair it will make you want to move around.